nic sheff ||
tweak
|| 4.0/5.0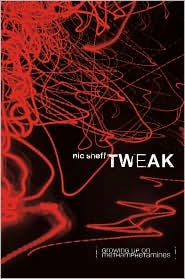 i was invited to be the friend to a bring-a-friend bookclub meeting. the books they're reading this month are this one,
tweak
, by nic sheff, and
beautiful boy
, by his father, david sheff.
the books chronicle nic's past few years as a methamphetamine addict and experiences in and out of sobriety. i haven't read
beautiful boy
, but i'm definitely looking forward to hearing more about it at the meeting later this month.
nic's book is really great - so long as you don't mind diving headfirst into the painful realities of drug addiction. its painful and enlightening, and very engaging. its hard to believe at the end that nic is only now in his young 20's.
its easy to write off addicts as a whole, but
tweak
puts a human face on the people facing addiction, and hopefully can serve to provide some illumination on the underlying diseases of addiction. i can only hope, as most addicts don't have the financial resources that pulled nic back out of it.